Data Storage Backup and Protection
As your small business grows, you will most likely need more space for data storage. All your information in the form of e-mails, documents, databases, graphics, presentations, audio files, and spreadsheets are truly the lifeblood of all your hard work.
Side by Side IT also knows there are trends that are pushing data storage even further. Here a just a few:
Government regulations requiring a backup of data that was otherwise deleted
Legal requirements to backup email archives dating back 5 years or longer
Viruses and spyware attacks requiring more backups than before
Larger hard drives are needed due to increased demands for storage for operating systems and software
Data storage and management are critical to small business success. Fortunately, there are several options you can use in combination that may be the best solution.
We recommend the 3-2-1 RULE
What is the 3-2-1 RULE? Best practice says all small businesses should keep at least 3 copies of your data. This is recommended by the US-CERT (United States Computer Emergency Readiness Team)
Two copies of your data should be on different storage devices onsite, and the third copy should be offsite or in the cloud.
If one device fails, such as a hard drive, you have another copy on the other device in your office. If your office experiences a local disaster such as a fire or weather emergency, you have another copy in the cloud safe and ready to be recovered.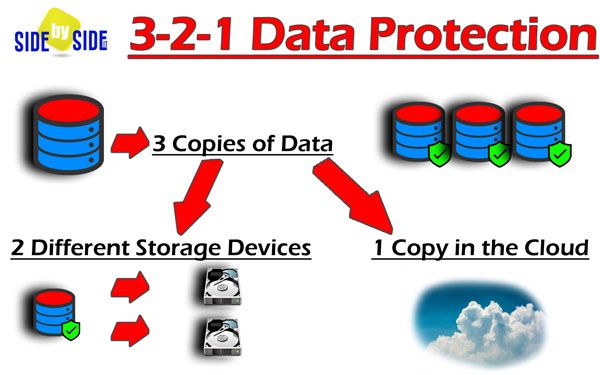 What is the best way to store my data?

How often should I backup?

How do you know what's best?
Before investing in a data storage and backup solution, let Side by Side IT evaluate your storage needs and requirements and we'll make the best recommendation based on your capacity needs, growth, and physical location.
We will then develop a customized plan for your small business that best fits your needs and budget.
Ready to Start Making Your Technology Work FOR You?
We would love the opportunity to work side by side with you to take your technology to the next level.
Reach out to us today for a free quote.